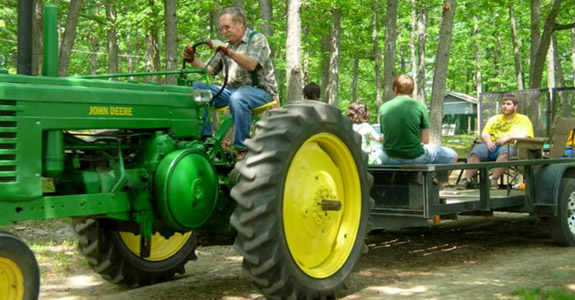 At Scenic View Campground LLC, we cater to people of all camping experience levels. Our regular visitors find us to be one of the best camping places in Tioga, PA, partly because we offer different types of campsites for people with different wants and needs.
You'll enjoy a fun and relaxing vacation at our grounds no matter if you're a seasoned camper who wants to sleep under the stars or you're new to living in the great outdoors and prefer the comfort of an RV. Most campsites in Tioga, PA don't come close to the variety that we have to offer! We offer the following campsites and amenities:
Campsites: We keep half of our campsites open to weekend campers and vacationers while the other half of our sites are available for rental on a seasonal basis. Our non-seasonal campsites include tent sites for those who like to be as close to nature as possible and RV sites and cabins for those who prefer the comfort of their own bed. We even offer group camping areas and our own rental campers for those in need of special accommodations!
Natural features: If you're looking for one of those camping places in Tioga, PA that's packed with scenic trails and inspiring mountain views, you've found it here! We have hiking trails for people at every experience level, as well as easy access to the beautiful Tioga, Hammond and Cowanesque Lakes. Between hiking, fishing, swimming and boating, there's no end to the ways in which you'll be able to get closer to nature.
Modern amenities: If you love to gaze upon the beauty that is the great outdoors, but you aren't quite willing to commit to roughing it, that's okay too! We offer the following conveniences to make you feel more at home:
General store
Children's playground
Game room
Covered pavilions
Restrooms
Showers
Pool
Laundromat
Fire rings
Although we may be a small campground, our campsites in Tioga, PA cater to a diverse crowd. We offer camping areas that are family and pet friendly, so that everyone can enjoy a good time no matter how large or small the group may be! Call us at 570-835-5700 to book your campsite today.